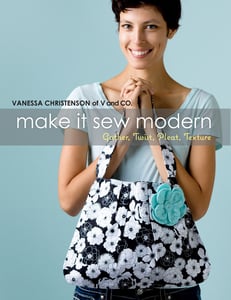 $

19.99 - On Sale
signed copy by the author.
About the Book
Now you can add new dimension and texture to your life, even if you're just learning to sew. This exciting collection of sewing ideas from Vanessa Christenson, owner of V and Co., shows how. Vanessa presents current, fresh home decor and fashion patterns that demonstrate her great design sense.
* Discover more than 20 simple sewing ideas, including eye-catching quilts, pillows, scarves, purses, and an assortment of clever embellishments
* Create three-dimensional flowers, raw-edge ruffles, tasteful tucks and pleats, and more
* Sew easy patterns and express yourself with unique designs that are just your style
**at this time i am only shipping in the united states. i am truly sorry! shipping is a booger!