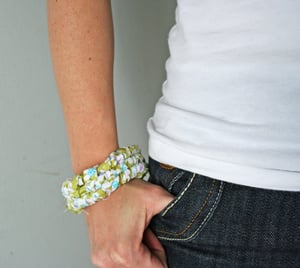 $

7.50
When I wear my fabric bracelets one of two things happens. 1) I get the comment of "did you make that? it's sooo cute!" or 2.) I get the comment of "where did you learn to make it?"
So hence I decided to make a down loadable tutorial. If you like my free tutorials on my blog or on the moda bake shop then you will for sure love this tutorial!
**we are now using a downloading system. the email address attached to your paypal acct will be the corresponding email. please check that email for downloading instructions. if you have any problems downloading please contact me! thanks!!